Experienced Colorado Springs Divorce Lawyer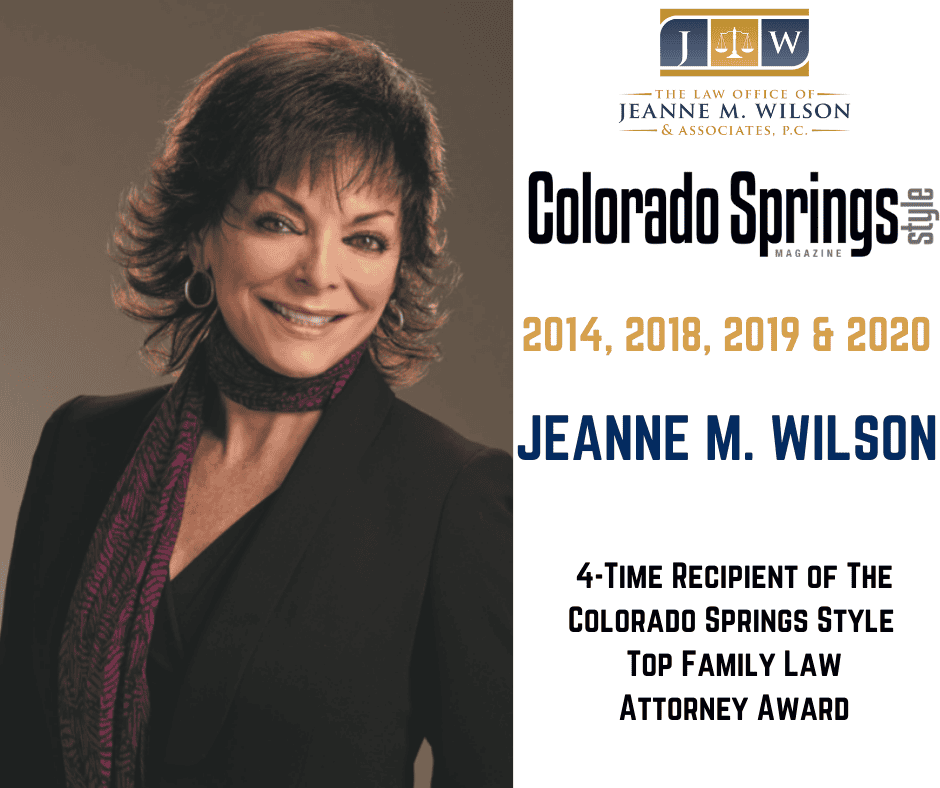 At The Law Office of Jeanne M. Wilson & Associates, PC, family law is our focus. Divorces, custody cases, parental rights, restraining orders, father's rights, step-parent adoptions, and even grandparent rights are part of our daily practice of law. We understand that going through a divorce or child custody case can be a frightening and worrying time for you and your family. Not only are we one of the top attorneys in Colorado Springs, but we are sympathetic to the feelings of anxiety, anger, and frustration that you may face when taking a case to court.
If you are looking for a divorce lawyer in Colorado Springs that residents can trust, we are here to help! Bring your case to an experienced family law attorney in Colorado Springs and leave your worry and apprehension at the door. We will handle all aspects of your case, so that you may concentrate on maintaining your personal health and maintaining healthy relationships with those around you. Family law attorney, Jeanne Wilson, had devoted her life to helping individuals during the divorce process. She leads a dedicated team and takes the time to truly listen and understand each situation entirely.
Taking a family law case to court can be a very difficult process. Consider hiring an experienced family lawyer to provide legal counsel and to guide you through the process.
Our firm exclusively practices family law in the Colorado Springs area, so our focus is always on you and your family's needs. We will approach your case with a strategy tailored to your specific situation. We will work closely with you to make sure that:
Your questions are answered
You understand your options
You know your rights
We will help you to understand how to best obtain the results you want in relation to:
Divorce

Post-Judgement Modifications

Step-Parent Adoptions
Download Our Free Divorce Planning Checklist
At The Law Office of Jeanne M. Wilson & Associates, PC, your experienced divorce attorney in Colorado Springs, we understand the unique challenges and problems in family law cases, and we understand the difficult emotions you and your family are facing. We are here to listen to your concerns and to provide legal counsel during this difficult time in your family's life. We are here to ensure that everything is taken care of and the process goes as smoothly as possible.
Let's face it, divorces are complex and emotional. It is to your advantage to be well prepared, so we are making this "Divorce Checklist" available to you so you have the information and documents you need to traverse the divorce process, correctly, expediently, and cost-effectively. As a leading divorce attorney in Colorado Springs, we provide this tool for your benefit, without cost or obligation and are certain that you will find it beneficial regardless of who you hire as your divorce attorney.
Protect Your Rights ● Peace of Mind for You and Your Family
The Law Office of Jeanne M. Wilson & Associates, PC
(719) 475-1495 |Email Us
The Law Office of Jeanne M. Wilson & Associates, PC is an experienced military divorce lawyer in Colorado Springs and has handled hundreds of unique cases for military families going through a divorce or child custody case. We know the challenges you face are different than those faced by civilians. We are pleased to offer a discount to our active duty military members and their spouses.
As a divorce and family law attorney in the Colorado Springs, CO area, Jeanne M. Wilson has been providing legal counsel and guidance to families going through difficult and transitory times for over 30 years. Jeanne and her legal team work with each client to provide individualized service and approach each case with the experience necessary to assist you with all of your family law needs.
With a background as a trial lawyer, a child abuse, and special teams criminal prosecutor, and a corporate attorney, Jeanne M. Wilson has the experience and insight to be a strong advocate for you in and out of the courtroom.
Recent Divorce Law and Child Custody Articles
Completing the required Sworn Financial Statement in any family law case is an unpleasant, yet necessary, task. It is time consuming and ponderous, anxiety-inducing and oddly illuminating. No matter how it is viewed, the hardest part of the Sworn Financial Statement is getting started. Don't wait. Try to make some progress each day. What to do first: Gather documents. Whether you save them on a computer or print and label them, this is the first…
If you are involved in a family law case, you know there could be hundreds of pages of documents that you will need to produce to your attorney such as monthly bank statements, pay statements and tax returns, credit card statements, leases, proof of car insurance, etc. Here is what you need to know about sending electronic documents and screen shots to your attorney. With our phones always at the ready, it is easy to…
(continued) This is a long list, and it is obvious after reading it that in addition to your regular job, you may have other sources of "income". You do not want the Court to find that you are hiding income, so it is best to disclose it all. If there is a chance that the funds can be excluded from income, your attorney can let you know this and can make the appropriate arguments when…
The Law Office of Jeanne M. Wilson & Associates, PC is located two miles south of downtown Colorado Springs on Lake Plaza Drive, near the Broadmoor Hotel and Fort Carson. (Map & Directions) We are Next to Culver's Restaurant. We have a relaxed, pleasant, child-friendly and animal-friendly office environment where you will feel comfortable talking with us about your legal needs. Our office hours are from 8 a.m. to 5 p.m., Monday through Thursday, and 8 a.m. to noon on Fridays. Contact our office at (719) 475-1495 to schedule a consultation.
The Law Office of Jeanne M. Wilson & Associates, PC is a family law firm serving clients in Colorado Springs and the surrounding area, including Fountain, Security-Widefield, Black Forest, Monument, Manitou Springs, Palmer Lake, Woodland Park, Cripple Creek, Calhan, Peyton, El Paso County, Fremont County, Teller County and Pueblo County.
We Offer a Military Discount
Visa, MasterCard and Discover Accepted